© 2012 All Rights Reserved
Please note this site uses tracking cookies continuing to browse the site means you accept these cookies



Cox Ceramics was set up in 2003 by Richard Cox.
During his apprenticeship Richard won awards for his tiling skills and at the tender age of 19 he represented Great Britain at the Skill Olympics held in Switzerland in 1996.

Before setting up his own business he worked for a number of leading tile companies in Leeds.




Cox Ceramics deals with both commercial contracts and domestic customers offering high quality tiling to walls and floors.

All Ceramics including, Porcelain & Mosaic and also Natural Stones including limestone, slate, terra cotta, Marble and granite.

From kitchens, bathrooms, conservatories, en suites, commercial kitchens, wet rooms and swimming pools. All plastering and plumbing work undertaken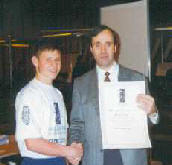 Richard receives his certificate after
winning the 1995 national tiling championship